Studio Services:
Pro Audio Recording, Editing, Mixing, Mastering
5.1 Film Mixing, post production; ADR, Sound Design, Foley, Editing, Restoration
On location multi-track recording, FOH live sound production
96kHz multi-track recording via Apogee Symphony i/o and Pro Tools

Analog 2" 24-track and tape available
Acoustics and Audio Equipment Consulting
Format Conversion/Transfers/Dubs
Composers, Copyists, Charts, Midi transcription
BRS Studio Musicians Network
Studio and Patchbay Wiring and Consulting
Audio Upgrades/Mods for your Audio Gear
Basic Pro Audio Gear Repair/Maintenance/Services
Custom "Black Box" Construction; ie, Direct Injection, Mults, Splitters, Headphone and Impedance matching boxes. Contact for details.
Blue Ribbon Rates:
Hourly rate: $65 an hour
FTP/Email/Unattended/Mixing Rates: Please contact for quote
I mix on my own time, get the mix the best it can be per your detailed notes and sonic references.
Independent Freelance Audio Services and Consulting outside my studio: Please contact for quote: 310-420-8882
Mastering:
Every project needs mastering. It's the final step in making great music. A great mix can be killed by mastering or it can be enhanced to the next level. It's to the songs advantage to have an unbiased 'fresh ears' approach by a third party that has never heard the song before. Mastering will correct the overall spectral balance and average loudness between songs. It's also the feel, punch, and impact of the songs. The glue of all the mix elements.
If your project has the budget, I highly recommend a professional mastering engineer. I recommend all my projects to Marsh Mastering
If you are on a tight budget, I can and would prefer to master your project. I can achieve professional results with out breaking the bank. Most full length Cds can be completed for under $500. Your project will get the attention it deserves. There is no hurry at BRS, I listening through the entire song many times to find the appropriate settings and parameters. I work with you to achieve the final sound. I do this for each song. Most sessions last all day. Bring your lab coat. Prepare to be impressed.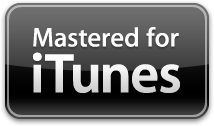 New BRS mastering rates:
Mastered for iTunes. Using the same codec as Apple to create iTunes Plus AAC (.m4a), know exactly how your mastered mix will translate to iTunes. iTunes will not reject a master with clipping or distortion, sometimes the encoding process can introduce clipping and distortions not present in the original source file. All BRS mastered files include an inter-sample clipping check to ensure the integrity of your download master. Bottom line, the best possible audio master for iTunes.
Stereo Mastering per song: $50 flat rate
16 channel Mix Stems Mastering per song: $120 flat rate


Mastering includes:
1 master Data CD-R and 1 playback reference CD-R
24 bit file for iTunes delivery
iTunes plus encoded master